Grease and more grease. Others can go a day or more without washing their hair even when it's a scorching hot day in Singapore. You're all too familiar with looking like you've taken a shower when all you did was perspire. That might just be an exaggeration but you know what I'm talking about...Whaddup my oily hair girls?! Hahaha.
It might sound disgusting but it is a fact of life. There are oily haired people walking among us. I for one am one of them. I was "blessed" with an ever so slightly greasier scalp and it makes my hair a lot more flatter and it makes hair fall a lot more too. Without the right care it can be the nightmare to deal with :(

I hate it when it feels all greasy especially when I'm out at a party.
DRY SHAMPOO IS YOUR BEST FRIEND!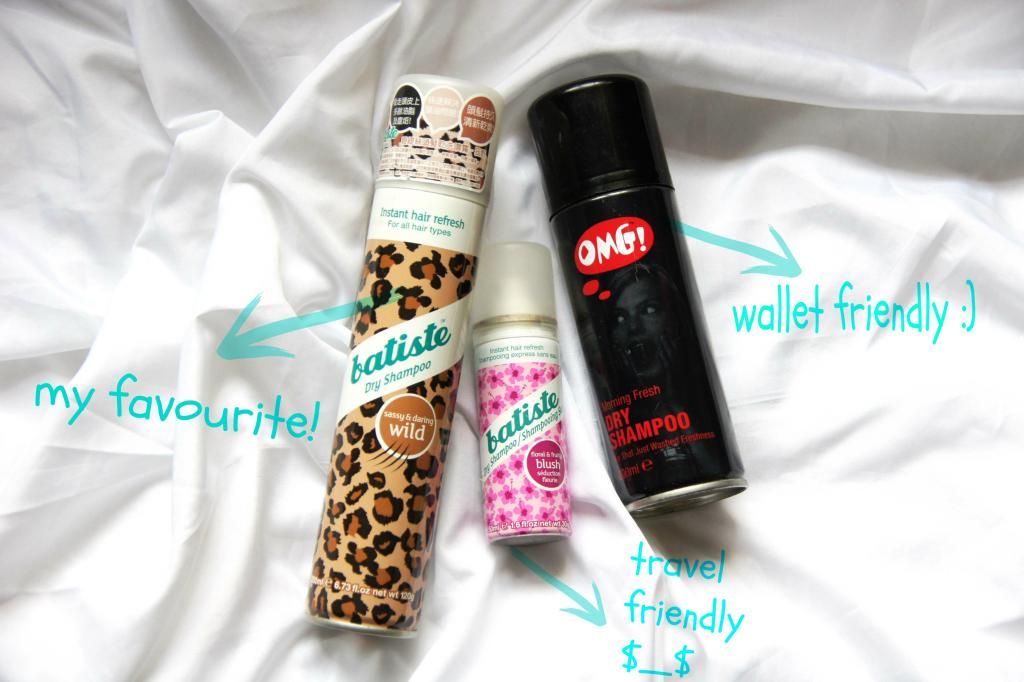 Batiste is my favourite when it comes to dry shampoo! They range from travel size ones to full sizes with interesting scents. I can;t wait to get my hands on the tropical scent! I do think its slightly more expensive when you buy Batiste in Singapore. I reccomand purchasing them when you're in Thailand or Hongkong for a better price! A wallet friendly alternative is the OMG brand! It costs under $3 and can be found at Mustafa along side many other dry shampoo brands.
Besides dry shampoo, shampoo is pretty important as well. I personally love shampoos that give a refreshing feel after a wash and I especially love this!
I always see myself heading for this shampoo. I love buying bath products especially shampoo and out of my 5 shampoos that I have in my bathroom, I always head for the Garnier Fructis Citirus Mint Fresh shampoo! It actually leaves my hair hydrated and fresh unlike many shampoos that contain citrus. I can feel that it washed away the oils and left my hair light at the roots which was perfect because I hate how the oils weigh down my hair.
Besides the Garnier shampoo, I like to use the Tresemme Deep Cleansing shampoo. This is slightly more dying than the Garnier one but leaves your hair with a clean feel as well. It's taking me a while to go through this bottle and I am still only almost 3/4 through.
Both shampoos cost under $10. What a bargain!
Another oil free product,
the Osis Dust It. Some texturizing products can make your already greasy hair even more greasy. On days where I just do not want to feel like an oily mess I turn to this powder to give me texture without the additional grease.
That's all for today's post!
Let me know what are your favourite products for an oily hair day!
PS. I f you like these kind of posts, do let me know by commenting :D
It would mean so much if you

continue

to stay tune for my next post!